Posts Tagged 'Norm Standlee'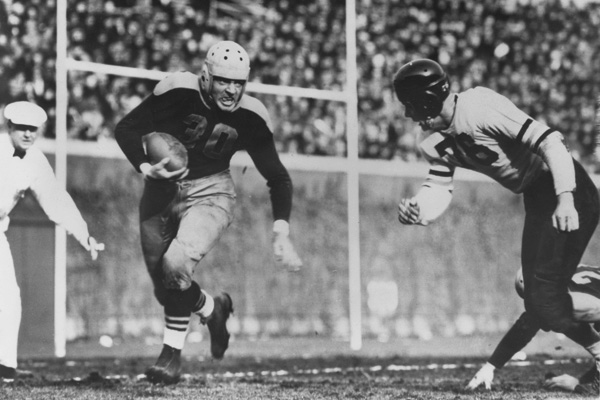 Did you know …
Three score and nine years ago, our nation's finest professional football rivalry clashed in its first — and until this year's NFC Championship only — playoff encounter.
That was seven days after the attack on Pearl Harbor, when the Chicago Bears — coached by George Halas — and the Green Bay Packers — coached by Curly Lambeau — faced off in a Western Division playoff game at Wrigley Field in Chicago. The Bears would go on to win that game 33-14, and then prevail in the NFL Championship 37-9 over the New York Giants.
The Bears-Packers showdown in late 1941 also happened to be the NFL's first playoff — non-championship — game. Never before in the NFL Championship's brief history (since 1933) had two teams had to face off in a tie-breaker game.
After splitting the season series, Halas' men won the rubber match. Packers flanker Don Hutson — recently named the No. 9 greatest player in NFL history — was a non-factor that day, as the Chicago 11 successfully shut down the game's most dangerous offensive weapon, holding him to just one catch for 19 yards. Instead, the hero of the day was the relative unknown Norm Standlee, who scored two touchdowns. A week later, Standlee scored two more touchdowns in the Bears' championship victory, which was his final game until 1946 due to serving in the armed forces in World War II.
1941 Western Division playoff starting lineups
Green Bay Packers
Chicago Bears
TB – Cecil Isbell
QB – Sid Luckman
FB – Clarke Hinkle
FB – Norm Standlee
BB – Larry Craig
LH – Ray Nolting
WB – Herm Rohrig
RH – Hugh Gallarneau
LE – Don Hutson
LE – Dick Plasman
LT – Baby Ray
LT – Ed Kolman
LG – Buckets Goldenberg
LG – Danny Fortmann
C – George Svendsen
C – Bulldog Turner
RG – Lee McLaughlin
RG – Ray Bray
RT – Charlie Schultz
RT – Lee Artoe
RE – Ray Riddick
RE – John Siegal